Non-destructive Testing (NDT) is a group of techniques to evaluate the properties of a material, component or system without causing damage. With the help of NDT one can detect cracks or any other irregularities in the airframe structure and engine components which are not visible to the naked eye. The testing methods enable us to inspect various materials such as aluminium, titanium, composites and steel.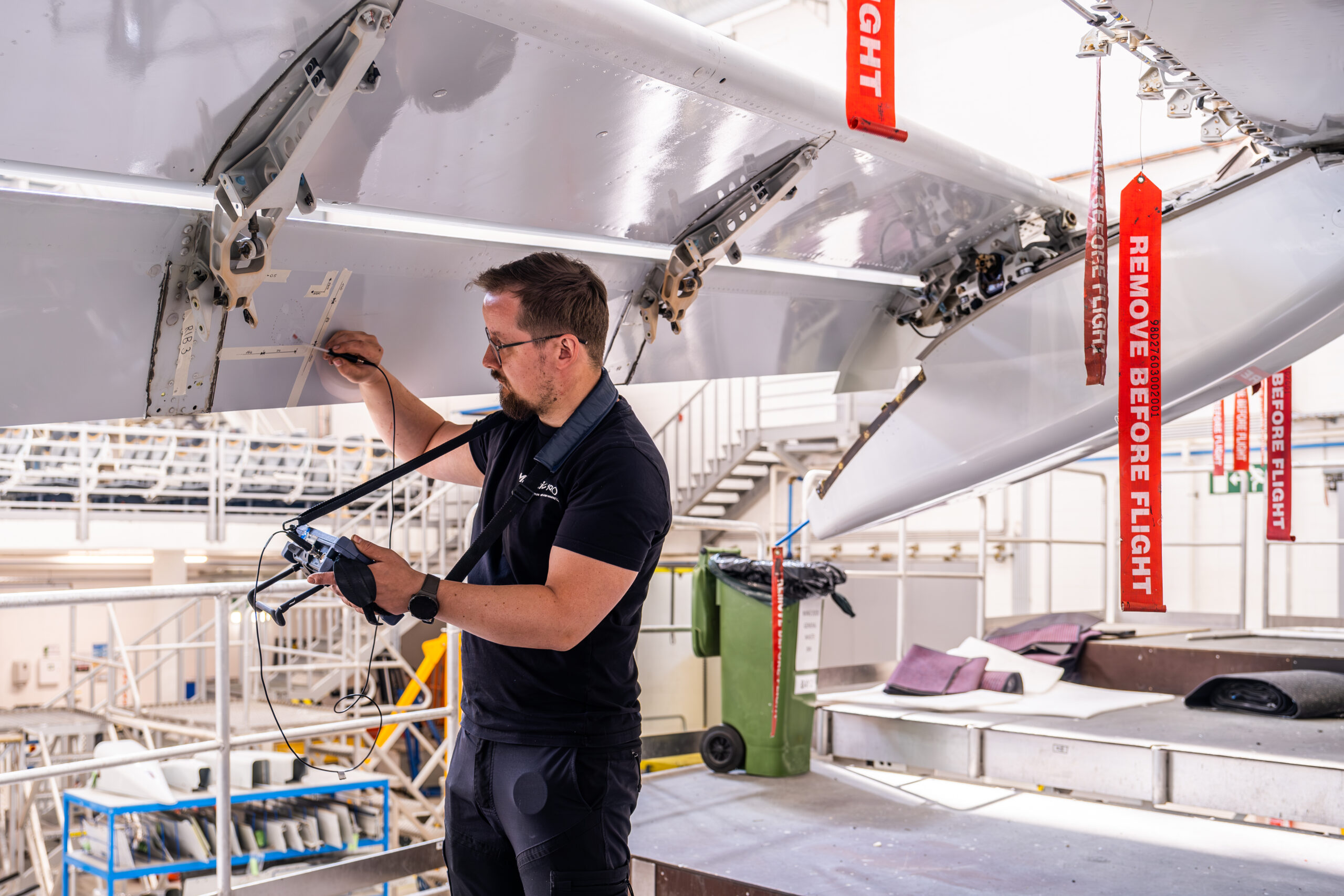 NDT inspection by EN 4179
Eddy Current (EC)
Rotary inspection of holes
Standard surface inspection, blends
Conductivity testing
A/C type-specific repetitive tasks
Ultrasonic (UT)
Phased Array
Thickness measurement
A/C type-specific repetitive tasks
Infrared Thermography (IR)
A320 elevator inspection
A320 rudder inspection
Other applications
Dye Penetrant Inspection
Full support for wheel & brake shop
Inspection with portable equipment on aircraft
Magnetic Particle Inspection
Full support for wheel & brake shop
Inspection with portable equipment on aircraft
ELCH Inspection
Other Methods in Cooperation with our Nominated Level 3:
X-Ray
The "Hardness Testing" – Magnetic MRO facilitates a high-precision hardness tester which enables us to test a large variety of materials. We can work both with Rockwell and Rockwell superficial scales. Hardness testing is primarily used as a mandatory method of testing after heat treatment of metals before their usage on structural repairs.
Hardness Testing
Rockwell hardness (scales: HRA, HRB, HRC)
Rockwell superficial (scales: HR15N, HR30N, HR30T, HR15T)
Heat treatment is a metalworking process which involves the use of heating or chilling, normally to extreme temperatures, to achieve a desired result such as hardening or softening of a material. Magnetic MRO owns and operates a specially designed furnace which conforms to Aircraft OEM standards. We are able to fully support aircraft structural team requirements and serve third party orders. The oven has inner dimensions of 750 x 1000 x 750 mm , operates up to a maximum of 850 degrees celsius and runs programs to treat all popular aerospace metals such as, but not limited to: 2000 and 7000 series aluminium, corrosion-resistant steel (CRES) and treatment of rivets.